Your Ultimate Guide to Mobile App Marketing Agencies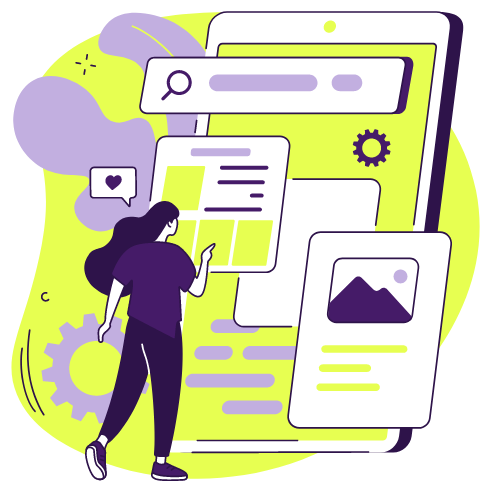 Mobile apps are taking over the world – and our wallets. With millions of apps across iOS and Android mobile devices, the app industry is expected to surpass $900 billion in revenue this year alone.
The competition is fierce, with over 5 million apps in the marketplace. Having a high-quality app is no longer enough – to survive, companies must implement smart, creative marketing strategies to stand out and connect with users in meaningful ways.
This is where a mobile app marketing agency comes in. By collaborating with an experienced agency, companies gain access to strategic tactics and insights tailored to cut through the tough competition and resonate with target users.
What is a Mobile App Marketing Agency?
If you want to promote your mobile app, then specialized mobile app marketing agencies may be the right choice for you. Mobile app marketing agencies help companies connect with users to increase app downloads and engagement.
They use a variety of digital marketing techniques uniquely suited for app promotion. By leveraging an agency, they can expand an app's reach and get it in front of the right audience.
Partnering with a mobile-focused marketing agency allows companies to boost visibility, drive adoption, and create lasting connections with users through their apps.
The Role of Mobile App Marketing Agencies
Mobile app marketing agencies are pivotal to an app's success across all stages of the user journey.
Before launch, they optimize store listings, create engaging descriptions, strategize categories, and choose screenshots highlighting an app's key features. After launch, agencies help boost downloads and engagement through effective marketing strategies tailored specifically for the app and its potential users.
This specialized expertise allows them to build anticipation and excitement, increase visibility, drive adoption, and enable long-term growth. With all of these factors at play, mobile app marketing agencies play a huge role in the ongoing success of an app.
Why Partner With a Mobile Marketing Agency
While the mobile space may seem saturated, your app still has tremendous opportunities to stand out and succeed. Having an agency partner gives you an advantage. You're helping your app reach its full potential by leveraging their expertise.
A mobile app marketing agency can provide strategic insights to attract your target audience and drive downloads. They have the unique knowledge to navigate the ever-changing digital landscape. At the same time, they utilize data-driven insights to optimize marketing efforts for the best results.
By leveraging their services, mobile companies can focus on refining their app while leaving the marketing to the experts.
Navigating the Mobile Marketing Landscape
Navigating today's ever-changing mobile marketing landscape takes work. New social platforms and advertising channels seem to emerge every day, each with its own audiences, formats, and strategies.
Where Facebook and Instagram were once the clear go-tos, social networks like Snapchat and TikTok now demand specialized expertise to promote your mobile app effectively.
An experienced agency stays ahead of the latest trends, innovations, and emerging platforms. They understand the details of each network with its unique audience demographics, ad types, and targeting capabilities. You can rely on an agency to quickly identify the platforms and tactics to reach your specific audience and craft targeted campaigns for each channel.
Take TikTok, for example — the platform has exploded in recent years, especially among Gen Z. But successfully marketing on TikTok requires mastering short-form vertical video ads, a stark contrast from Instagram or Facebook. A marketing agency knows the details of each social network. They know how to leverage and optimize each network's features to drive app installs and growth.
In the complex, ever-changing mobile marketing landscape, an agency stays ahead of the game and connects your app to the right users on the right platforms.
There are many ways to market your app to potential users. You just need the right agency to help you reach them.
Effective Mobile Marketing Strategies
To promote apps effectively, mobile marketing agencies use a variety of marketing strategies that span paid, owned, and earned channels.
Paid strategies include in-app advertising to engage users, social media ads targeted to relevant demographics, pay-per-click campaigns that put the app in front of intent-driven searches, and influencer collaborations that leverage creators' audiences.
Organic tactics involve optimizing apps for app store searches, building high-quality backlinks, producing engaging content like blogs and videos, managing social media channels to foster brand advocates, monitoring reviews and responding appropriately, and leveraging word-of-mouth through referral programs.
By combining data-driven paid promotions, organic content and outreach, and creative partnerships, mobile app marketing agencies execute multi-channel campaigns designed to raise awareness, drive downloads, and cultivate lasting engagement with an app's target users. These integrated strategies amplify reach and results.
Targeting Your Ideal Users with Precision
While basic demographic and interest targeting is available to anyone, marketing agencies utilize much more advanced tactics. Geo-targeting, custom audiences from your website traffic or CRM data, lookalike audiences, market research, and predictive modeling allow agencies to identify those likely to download your app. They have the ability to target with precision.
For example, agencies can build custom audiences of people who've engaged with your brand across channels, visited website landing pages, or mirror existing power users. By understanding your ideal user persona, agencies can pinpoint prospective app users and lead them right to you.
Agencies also have the expertise to create assets optimized for different platforms. The team can create custom content that resonates with your audience and encourages them to download your app. Dynamic creative testing allows agencies to serve different versions of an ad to determine what resonates most with your target audience.
With an agency's advanced targeting capacities and creativity, they can effectively hone in on your best users and drive growth.
Full-Funnel User Acquisition Strategies
Growing an active user base requires more than a one-off marketing campaign. Experienced agencies know this, so they develop full-funnel strategies that engage users at each stage of the journey.
Early on, branding builds awareness and highlights your app's value. App store optimization (ASO) improves discoverability for key searches. As users move down the funnel, performance campaigns directly promote app installs while employing strategies to re-engage past website visitors or app users to help recapture lapsed users.
Ongoing email marketing, push notifications, and in-app messaging campaigns keep users engaged. Dynamic deep linking delivers context-specific in-app experiences.
With tactics mapped to each stage of the funnel, agencies can strategically attract, acquire, onboard, and retain users. They transform campaigns into a cohesive mobile marketing strategy that continually nurtures growth. Users are guided from initial discovery to long-term engagement.
The result? An active community of engaged users fueling sustainable app growth and success.
Retargeting Past Users and Visitors
This leads us to retargeting, a key component in user acquisition. Retargeting involves targeting ads to those who've already engaged with your brand in some way. By creating custom audiences of past website visitors, current app users, or contacts in your CRM, agencies can reconnect with qualified prospects already familiar with your app.
Retargeting helps recapture users who didn't initially convert as a user. This tactic lets users remind them of your app and prompts them to install it. For existing users, retargeting encourages increased engagement by opening the app again, making a purchase, or sharing with friends.
With cookies, mobile ad IDs, and other tracking methods, agencies build detailed customer profiles and audiences. They then deliver relevant ads across platforms to nudge these qualified prospects down the conversion funnel. Retargeting provides a major opportunity to cost-effectively convert and re-engage known audiences already familiar with your brand.

Driving Performance and Efficiency Through Optimization
App install campaigns involve constant testing and optimization. A mobile marketing agency analyzes daily performance data and makes ongoing tweaks to improve results.
Agencies A/B test different bidding strategies, placements, formats, creative assets, keywords, targeting, device types, and more.
They also develop statistical models to understand the correlation between certain targeting factors and install performance. Then, they refine targeting to maximize conversion potential.

Agencies also leverage their ad spend across clients to negotiate better media costs. Their expertise and scale enable them to maximize app install volumes while minimizing your CPI (cost per install) or CPA (cost per acquisition).
Through constant analysis, testing, refinement, and negotiation, agencies optimize every facet of your campaigns. This enables them to unlock significant performance and efficiency gains over time while expanding your user base.
Optimizing Budget Across Channels
With many potential marketing channels, agencies must determine the optimal budget allocation for the right media mix. Factors like target CPIs, predicted ROI, seasonality, and capacity for scale impact how the budget gets distributed across various platforms and campaigns.
Agencies use historical performance data and predictive modeling to inform budget decisions. Budgets may shift across platforms as costs and competition fluctuate. Emerging channels with less saturation may need additional budget to establish a foothold. Seasonal demands also impact budget – an e-commerce app may increase spending during holiday shopping surges.
Continuous performance analysis allows agencies to optimize budget distribution. Channels failing to provide desired ROI are reduced as high-performing placements receive additional funding to drive growth. Through dynamic budget allocation, agencies maximize output from the collective marketing spend.
The 5 Elements of Mobile App Marketing
For professionals without marketing expertise, the strategies behind successful mobile app promotion can seem foreign. However, developing an understanding of the core elements can provide valuable insight.
Mobile marketing involves a variety of strategic efforts. By grasping the range of both technical and creative techniques, you can gain a deeper appreciation for the work involved in effectively marketing an app, especially within a marketplace of tough competition.
Familiarity with key strategies allows you to collaborate more with mobile marketing agencies. You'll understand why having a solid marketing strategy is no longer an option – it's essential.
Here, we outline the five key elements of mobile app marketing, some of which we've already highlighted.
App Store Optimization (ASO)
App Store Optimization (ASO) involves optimizing your app's visibility in the app store. Marketing experts are tasked to enhance your app's title, description, keywords, screenshots, and reviews to improve its ranking in app store search results.
ASO is crucial in the mobile app industry. A higher ranking equals more visibility, downloads, and, ultimately, more users.
User Acquisition:
The goal is to get more users to your app. This highly involved task requires knowledge and expertise of all marketing channels you have at your disposal. And there's a lot of them.
Marketing experts will provide strategies that may include targeted advertising campaigns, influencer marketing, social media promotions, and more.
They want to get people to your app and attract high-quality users who download, engage, and eventually become loyal customers.
User Retention
It's not enough to just acquire users; retaining them is equally important. This involves implementing marketing strategies that keep users engaged and encourage regular use of your app.
Mobile app marketing agencies use a variety of tactics, including push notifications, regular app updates, personalized content, and loyalty programs.
Data Analytics and Tracking Metrics
Marketing agencies are driven by data to drive success. So, understanding your users, their behavior, and preferences is crucial to your app's success.
Marketers can leverage data insights like user demographics, app usage patterns, conversion rates, and much more.
These insights inform your marketing strategy, helping you fine-tune your approach to better meet your users' needs.
Monetization
Last but not least, monetization is a critical component of mobile marketing. There are various app revenue models, including in-app purchases, paid downloads, subscription services, and ad revenue. The ideal monetization approach aligns with business goals and user preferences.
Marketers provide expertise to identify effective monetization strategies that attract and retain users to drive revenue. They know how to strike the right balance between generating income and avoiding alienating users with excessive ads or high costs.

Agencies can advise on ways to maximize monetization that complements the app experience.
Finding Success With the 5 Elements
Implementing these core mobile marketing elements—app store optimization, strategic user acquisition, retention tactics, data analytics, and monetization models—enables businesses to set their apps up for success. When these elements work together, apps can gain visibility, build lasting user bases, gather actionable insights, and generate revenue.
By collaborating with mobile app marketing agencies to execute integrated strategies across these areas, companies can elevate apps to reach their full potential.
For professionals new to mobile marketing, grasping these foundational elements and how they interconnect provides a helpful framework for making informed decisions about promoting your apps effectively.
Choosing a Mobile App Marketing Agency
With an understanding of mobile app marketing strategies, it is essential to carefully select the right agency partner to drive success.
The ideal agency should have deep expertise in mobile user acquisition and engagement rather than just broad digital marketing knowledge. When evaluating potential partners, some of the questions to ask include:
How will you help my app stand out in a crowded market?
What are your performance benchmarks and optimization processes for app install campaigns?
Can you share case studies and proven results for mobile apps similar to mine?
It's worth taking the time to vet potential partners to find the best long-term fit. Look for an agency that checks all the boxes: deep mobile marketing expertise, transparency about performance, attentive account management, and experience in your specific industry vertical.
The right partner for your app should have proven success in accelerating growth for similar apps. You want them to get up to speed quickly and have the specialized knowledge to hit the ground running on the right strategies tailored to your goals.
An agency that combines mobile expertise with vertical insights can boost your app's journey. Finding that ideal mix of skills and fit takes thorough vetting, but setting your app up for long-term success is crucial.
Mobile App Metrics to Track Success
Rather than leaving metrics and KPIs to an agency, take an active role in defining what success looks like for your app and how it will be measured.
Work with your chosen agency partner to determine the key quantitative metrics and milestones that indicate performance and growth for your business. By aligning on success metrics together, you establish clarity on targets and a baseline to optimize toward success. Maintain transparency in campaign analytics so you can regularly assess progress against your defined KPIs.
Understanding the core metrics driving your mobile marketing strategy allows you to keep efforts targeted toward your business goals.
Cost Per Install (CPI) – What is the average cost to acquire each new app user? Lower CPI indicates greater efficiency.
Install Volume – How many new users are added daily/week/month? This shows the raw pace of growth.
Install Conversion Rate – Of users who see your ads, what percentage of users who see your ads take the step to install your app? Higher rates are better.
Lifetime Value (LTV) – What is the average revenue generated per user over their app lifecycle? Optimizing for high LTV users is key.
Return on Ad Spend (ROAS) – Measures overall profitability by comparing revenue generated to ad costs. The goal is ROAS > 1.
Retention Rate – What percentage of new users remain active in your app over timeframes (Day 7, Day 30, and Day 90)?
Engagement – How frequently and deeply are retained users engaging with key actions in your app?
Funnel Conversion Rates – What percentage of users complete each step in your desired onboarding funnel? Finding where drop-off happens allows you to optimize.
Cohort Analysis – Comparing metrics for users acquired in different weeks or months reveals trends over time.
While benchmarking against industry averages and past performance is helpful, the core focus should be driving continuous improvement in your metrics week-to-week and month-to-month.
You can regularly assess campaign data to identify optimization opportunities that lift key performance indicators over time – whether that's CPI, CTR, conversions, or other metrics important to your app. As you optimize, your mobile marketing campaigns gain momentum and provide growth over time.
Stand Out and Thrive With a Mobile App Marketing Agency
Let's be real – in today's crowded mobile space, your app needs a strong marketing program to build meaningful user adoption and engagement organically. The right agency can give you the strategic guidance, technical know-how, and campaign energy to acquire, engage, and retain mobile users at scale.
An agency is an investment in long-term success, not just another cost. With specialized skills and proven processes, they deliver ROI through sustained user growth and higher lifetime value. Take time to find the best fit based on experience, performance, case studies, and team expertise.
Together, map out a data-driven marketing roadmap tailored to your app and audience goals. Stay informed and understand your data. Make your agency a core strategic partner, not just a vendor.
With a top-notch app and the right agency focused on long-term growth, you have an unbeatable combo to thrive in an overcrowded marketplace. Leverage their mobile marketing expertise to get your app the visibility, users, and traction it deserves.
This is your chance to level up and succeed in the mobile space.
---
If you're looking to take the next step in marketing your mobile app, Aragon Premium may be the agency partner you are looking for. We are a trusted partner for many brands and have mobile marketing expertise to expand your user base. We'd be happy to collaborate with you and help your app succeed.
---