5 Elements of Mobile App Marketing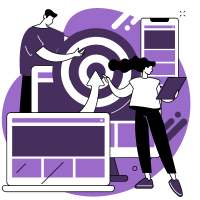 If you've never marketed a mobile app before, navigating the mobile app marketing landscape can be daunting. However, understanding the core strategies that are the basis for marketing any app can reduce any future headaches. Mobile app marketing requires strategic coordination across a variety of fronts to effectively promote an app. Getting a handle on the technical details and coming up with compelling messaging are crucial first steps to tackling the many moving parts of mobile app marketing.
Understanding the following core concepts can improve your collaboration with a mobile app marketing agency. Any app marketing plan must address these basic five elements. You don't want to waste time and energy with strategies that show little results. 
Get Visibility with App Store Optimization (ASO)
The first step to marketing any app is making sure it's visible in app stores. Just like you would conduct search engine optimization for a website, app store optimization (ASO) involves optimizing an app's visibility within app stores. This includes fine-tuning elements such as title, description, keywords, screenshots, and user reviews.
Your goal is to appear high in the results in app store searches for both branded and non-branded keywords. Ranking high in search results is critical to being competitive. Top placement equals greater visibility to prospective users browsing the store and ultimately drives downloads and user acquisition.
Drive Traffic with User Acquisition Strategies
The main objective for any app is acquiring new, high-value users. This requires exposure across a variety of marketing channels, from social media to influencer partnerships to paid ads and more.
User acquisition strategies should drive traffic to the app store from targeted users who will not only download but actively engage with the app. Ultimately, tactics that contribute to user acquisition aim to convert downloads into loyal, long-term users.
Keep Users Happy with User Retention Techniques
Acquiring new app users is only half the equation; retaining existing users is equally important for mobile marketing success. It's common for apps to experience high initial downloads but later struggle to retain users over time. Effective retention tactics are key to driving ongoing engagement and cultivating brand loyalty.
There are numerous strategies you can employ to boost retention. Push notifications remind users to return for new app updates and content. Loyalty and rewards programs using points, unlocked features, or special offers provide incentives for regular usage.
Social engagement keeps users invested in the app community via commenting or sharing features. Contests, leaderboards, and other gamification elements are often used to attract users to return.
Overall, the goal is to use the ideal mix of retention strategies to keep users routinely opening the app. By driving ongoing engagement over time, apps can translate new users into an invested, loyal audience. Combining the right retention tactics provides the sticky factor that separates a good app from a great one.
Understanding Users with Data Analytics
Your app is likely to pump out a ton of user data, and understanding what users are doing with your app is important for an effective mobile marketing strategy. Analyzing key metrics and user behavior patterns over time enables a deeper understanding of app audiences and can provide actionable data to optimize efforts.
What data should you track? Most app marketers focus on quantitative engagement and usage metrics across the user journey. This includes monitoring acquisition channels to identify high-converting sources of new users, as well as using attribution tracking to determine which campaigns and strategies are driving downloads.
Analytics inform user profiling with data on demographics, devices, and geographic locations. Monitoring session frequency, retention rates, and user churn provide a comprehensive picture of user behavior.
Qualitative insights are also important. Sentiment analysis via ratings and reviews reveals feedback, while user surveys and focus groups can offer direct input on app experiences.
Combined, quantitative and qualitative data can deliver insights to fine-tune your marketing strategies. Key metrics can help tailor campaigns, features, and messaging to what resonates best with target audiences.
Strike a Balance with Monetization
Monetization is often an essential piece of the puzzle. Most commonly, apps leverage models like paid downloads, in-app purchases, subscriptions, and ad revenue to monetize their users. The key is striking the optimal balance between profit and user experience.
That said, in-app purchases or advertising may not be the only way to monetize your app. Some apps provide supplementary functionalities and convenience that keep paying customers returning. For example, most banks offer a mobile app experience. While downloading and using banking apps is usually free, they provide a level of user engagement that contributes to customer retention. Their mobile apps can also be a vehicle to market additional services that can drive revenue among existing account holders.
Mobile App Marketing Strategies that Lead to Success
When combined, ASO, user acquisition and retention, analytics, and monetization form the core of any app marketing strategy. When these pillars work in harmony, apps gain visibility, loyal users, actionable insights, and revenue growth. For those new to app marketing, grasping these core concepts provides a vital framework for comprehending effective mobile app promotion.
---
Sign up for our newsletter to find out more about mobile app marketing!
---